How to clear debt: a guide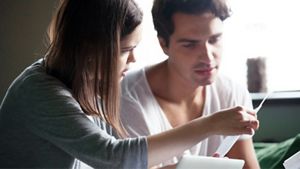 Some debt is necessary and unavoidable, but if it's keeping you up at night it might be time to take action. look at some strategies for clearing debt and where to go for support.
By Steve Smethurst
The pandemic has increased money worries for many people. Research by the Money Advice Trust 1, which operates the National Debtline, shows that 31% of adults in the UK report being financially worse off as a direct result of Covid-19. More than 11% are behind with one or more household bill or personal-credit commitment, and 17% are losing sleep because of financial worries.

This is backed up by Aviva's own research, in which a quarter of respondents said their debts had increased over the past 12 months 2. They reported that debt has been used to replace lost income, to pay off other existing debts, to help a family member, or because they had taken a mortgage/debt repayment holiday and the interest had accrued.
It ties in with the experience of debt-charity StepChange, which has long argued that most debt isn't caused by taking out 'pay-day loans' or other risky behaviour, but simply because people experience some sort of life-event that affects their income or their ability to pay back otherwise affordable lending.
We also know that when people feel their debt is out of control it causes huge anxiety. Aviva's research found that 18% of respondents think about money worries every day and 9% worry about debt all the time. 
Dealing with debt

The most common methods to get out of debt used by Aviva survey respondents were cutting back on non-essential monthly costs; cutting back on food and drink spending; selling possessions; working overtime/a second job and buying a lottery ticket (note that the odds of winning the National Lottery jackpot are one in 45 million 3).
However, it's important to recognise that certain types of debt can prove more problematic than others. These include your mortgage/rent, council tax and child-maintenance debts. These should be prioritised, as the consequences of not paying them are greater.
Other strategies for clearing debt include paying off high-interest loans first, consolidating your debts and trying to clear those that might harm your credit rating. However, the best advice is to seek expert advice early. 
The Money Advice Service, set up by the UK Government, contains links to reputable sources of free debt advice. It is also an excellent source of information about how to priortise your debts and the important differences in terms of debt between Northern Ireland, Scotland and England & Wales.
But if you choose to look online for help, a note of caution comes from StepChange, regarding the adverts that appear at the top of Google searches for 'debt advice'. "They tend to promote companies that charge for their services and who are likely to make recommendations based on the profits they can make," says a spokesperson.
Debt solutions

If budgeting, consolidation and prioritisation won't be enough to solve your debt issues, there are other options. Perhaps the best known is bankruptcy. This is a form of insolvency in which your debts are written off. However, any income or assets you have may be taken to pay off some of your debt. 
It's important to seek advice as bankruptcy may not be the best solution. Alternatives include debt management plans through which you would make a single monthly payment through a debt-management company based on what you can afford; and an individual voluntary arrangement, a form of insolvency under which you would make agreed payments to your debts, usually over several years, and at the end any unsecured debts are written off. Another option if you are on a low income with very few assets is a debt relief order, which will freeze your debts for a year then write them off completely if your circumstances haven't changed.
Breathing space

As of May 2021, there is a new option for anyone worried about spiralling debts. The Debt Respite Scheme (Breathing Space) has been introduced across England and Wales. Debt charities have campaigned for it for many years and it will give people in problem debt the right to legal protections from their creditors while they deal with their debts.
There are two types of 'breathing space' — standard and mental health crisis. With the former, if you pass the eligibility checks, your creditors won't be able to add interest or fees to your debts, or take enforcement action for 60 days. However, you will still need to make your regular payments if you can afford to. It's important to note that this is different from a payment holiday, so you will have to continue paying your debts during this time, but it does prevent action from being taken against you if you're unable to pay.
A mental health crisis breathing space is only available to someone who is receiving mental health crisis treatment. It lasts as long as the person's mental health crisis treatment, plus 30 days. A Breathing Space can only be applied for by an approved debt-advice provider, as part of an advice session (see here for the StepChange guide). They are administered by the Insolvency Service who will then notify creditors when the Breathing Space starts. 
Aviva pandemic support

"If you're having severe financial difficulties, we'll do everything we can to support you," says Aviva's Head of Workplace Savings and Retirement Laura Stewart-Smith. "We offer coronavirus-related payment deferrals across a number of our products, including car, home, life insurance and health, critical illness and income protection," she says. 
"This may be preferable to missing a payment, which may mean you run the risk of your policy being cancelled and leaving you uninsured. However, it may not be suitable for everyone as it means paying back higher monthly payments in the future. You can also change the date your Direct Debit is collected and we don't charge a fee to amend your payment dates," she says. 
Aviva has also developed a free downloadable debt calculator [an excel template that calculates how long it will take you to clear debt] which will help people take control of their finances as they work to become debt-free. Simply fill in your income and outgoings, and calculations will be made automatically. This should help you see what's coming in and going out each month and make budgeting easier.
Don't wait to get help

There's a growing recognition in the UK that Covid has had a devastating impact on many people's finances. Also, that the temporary emergency support measures through furlough, temporary benefit uplifts and creditor payment deferrals have combined to create a situation where millions of households have seen their debt problems deferred rather than resolved. 
So, please don't wait to get help — the earlier you take action the sooner you'll be able to sleep soundly at night. It's also worth discussing your money worries with your creditors as many will be willing to come to temporary arrangements to help you out. As part of this, you'll need to work out your monthly budget to prove to creditors that you're paying what you can afford to pay. This is something our debt calculator can help you with. Add details about your debt — how much you have left to pay, the interest rate, how much you're paying each month — and our calculator will work out how many months it'll take you to pay it off in full. Finally, remember that debt advice should always be free, confidential and impartial.'