Moving not an option? These home improvements add the most value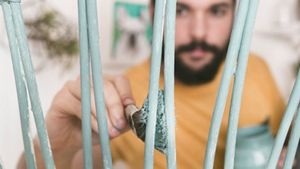 With the UK's housing market pretty stagnant, it might make sense to stay and add value to your property through home improvements.
By Dee Pilgrim
Anyone who's trying to sell a property in 2019 will probably agree it's challenging to say the least.
The Rightmove House Price Index shows the uncertain political backdrop is holding back the market 1. Director Miles Shipside comments: "It's one of the most price-sensitive markets that we've seen for years, with buyers understandably looking for value or for homes with extra quality and appeal."
Many home-owners are adding that special something to their property by making improvements, with the most popular improvements in the UK being installing a new bathroom or kitchen, redecorating and landscaping the
garden 2.
Improvements that pay
The Federation of Master Builders and the HomeOwners Alliance have researched the projects which can add the most value to your home, in the shortest space of time. Surprisingly, the added value ranges widely depending on where you live. For instance, adding decking and lighting to your garden costs on average £4,000 but adds no value to properties in London or the North East, but can add £9,000 to properties in Dorset 3.
Removing an internal wall to create an open plan kitchen and diner costs on average £3,500 but can add £48,000 to a property's value in London, but only £5,834 if the property is in Cambridgeshire.
Paula Higgins, Chief Executive of the HomeOwners Alliance, said: "This research is encouraging news for home owners. Improving your home to make it more enjoyable to live in can also give you a big financial boost when it's time to sell."
Always have a plan
While improving your bathroom or kitchen won't need planning permission, a substantial number of larger projects do. Construction industry analysts, Barbour ABI, capture data on all these applications across Britain. It's 'Home Improvers of Great Britain 2019' report shows the biggest growth in applications came from North West England, with an increase of 5% in the last year 4. 
The report also shows that across 2017 and 2018, the South East is the area where home-owners spent the most on improving their homes with an average spend of £2,100 a year. Scottish households on average spent £760 a year changing and improving their homes. While in Wales, the average spend was £660.
Roughly half of the applications made include either loft conversions, extensions or basements.
Because your house is worth it
Which improvements offer best value for money?
Loft conversion
It typically costs between £21,000 to £44,000. According to the HomeOwners Alliance, having that extra space can add up to 20% to your property's value 3.
The majority of loft conversions don't need planning permission, but you should check with your Local Planning Authority.
Basements
Transforming an existing cellar into a living space can boost a property's value by up to 30% – as long as the build cost per square foot is less than the price per square foot of property value in the area 5.
Kitchens
Investing in kitchen improvements such as new flooring, a new worktop and new cabinet doors costs around £4,000 but can add £15,000 to an averagely priced home in Cambridgeshire 3.
Kitchens have become 'showpieces' where we not only cook but also eat, relax and generally live, so are well-worth improving.
Creating a 'smart' kitchen
According to a report by MTW Research, kitchen sales will rise by £50m in 2019 6.  Based on kitchen suppliers' data, the research found that higher-value rigid kitchen cabinets, cooking appliances, premium taps and dishwashers are selling well. Smart extractors, voice-activated hobs and built-in cabinet smart speakers are just a few examples of how kitchen retailers are integrating technology into modern kitchen designs.
Check your insurance first
Before having any work done you should check with your insurer, as Jonathan Cracknell, Customer Underwriting Manager at Aviva, explains: "A customer should contact their insurer if they're planning on having any alterations, renovations or structural work to their property. This is generally a condition of the insurance policy and there would be nothing worse for a customer to find out they don't have sufficient cover in place because they hadn't discussed or declared it with their insurer. 
"Generally, any fixtures, such as a bathroom suite, would be covered under the buildings insurance, but we would always encourage customers to review both their levels of buildings and contents cover if they have significantly invested in new items to accompany their nice new room."
Ways to pay
Planning your new space is exciting, but forking out for builders, materials and home furnishings doesn't need to demolish your pocket. There are a few ways you can pay for improvements. 
Savings and credit cards
Using savings to fund your home improvements is a good investment, but if you're paying directly with cash, you won't be able to claim your money back if the work is faulty or left unfinished, like you would with a credit card. It may be better to use a 0% purchase credit card. Then use your savings to pay this off every month.
Personal loans
Loan rates have remained competitive over the past few years, but you should make sure you can repay the amount you borrow on time. You'll need a good credit score to secure the loan.
Re-mortgage
This is often cheaper than taking out a loan, but you must earn enough to prove you can afford the additional repayments.
Home improvement loans
Secured home improvement loans are used for larger, more expensive projects (such as basement conversions), while unsecured loans are used for smaller projects and repaid over several years, normally at a fixed rate of interest and usually up to £25,000.
For a full list of projects, costs and the value they can add to your home by region, go to the Federation of Master Builders website.