When you buy an Aviva annuity we guarantee to pay you an income for the rest of your life. As an existing customer, we understand that you may still have questions or want to make changes to your details during the life of your plan.
Our site has been designed to provide quick and easy answers to some of the most common annuity queries. If you can't find the information you're looking for, you can email your enquiry or speak to one of our team on 0800 092 3711, who will be happy to help - whichever you prefer.
Changing your details
My address, moving abroad and personal details
We can accept your new details over the phone or by post.
We would advise you to tell us you're moving at the earliest available opportunity. If you wish to contact us before you move we can update our records at a date in the future as specified by you.
If you have changed your name we will require a copy of the relevant legal documents along with your old and new signatures.
My UK bank account
We can accept your new details over the phone or on receipt of a signed letter.
Please provide us with your bank name, the payee name(s) on the account, the six digit sort code, eight digit account number and roll number if applicable. Please note that the account must be held solely or jointly in your name.
My overseas bank account
We can either continue to pay into your UK bank account, or alternatively (depending on which country you are moving to) we can pay into an overseas account. Please contact us for more information.
Do I need to tell you I am getting divorced/separated?
Depending on your annuity type we may need this information to be updated on our records. Please contact us and we will provide you with further details.
Notify us of a death
Who do I contact?
We understand that bereavement is a very difficult time. We try to make the process of informing Aviva as simple as possible. We have a dedicated UK-based team who you can call to notify us of your loss:
Call us on 0800 0688273 or
+44 1603 603892 if dialling from overseas.
We recommend contacting us by telephone because it's the quickest way for us to help you understand what happens next. Our lines are open from 9am-5pm Monday to Friday. You can leave a message outside of these hours.
What do I need to send you?
This can vary so please give us a call and we can let you know what we need based on your circumstances. We may need the following documents:
Will you return my original documents?
Yes. Any original documents sent to us (marriage certificate, birth certificate, death certificate, passport, for example) will be returned to you once we have taken a copy for our records. In order to reduce the risk of these documents getting lost, we recommend you send any original documents to us via Recorded Delivery. We will return them by the same method.
What is a Grant of Probate?
A Grant of Legal Representation (either a Grant of Probate when there is a Will and at least one executor able and willing to act or a Grant of Letters of Administration if there isn't) is a document issued by a Probate Registry of the English High Court. It officially authorises the personal representatives of the deceased to deal with their estate and enables banks and insurance companies and anyone concerned with the property of the deceased to deal with them.
A Certificate of Confirmation is the Scottish equivalent of a Grant of Legal Representation, issued on application to the Sheriff Court. Each of these documents is also evidence that Inheritance Tax has been paid or that none is payable in the United Kingdom, which is also very important.
When there is a Will, a Grant of Legal Representation or Certificate of Confirmation is issued to the executors mentioned in the Will (or executors nominate in Scotland). When there is no Will it is issued to the administrators of the estate (or executor's dative in Scotland). For more information on grants of probate please see the HM Revenues and Customs website.
My payment and taxation
Why are you taking tax off my annuity payments?
Your pension annuity payments are treated as an income which is normally subject to Pay As You Earn (PAYE) taxation, as per Her Majesty's Revenue & Customs (HMRC) rules. When you take out a pension annuity, HMRC tell Aviva which tax code to apply to your income. This tax code tells us how much tax is to be deducted.
Who should I contact regarding taxation?
If you have any queries regarding the taxation of your schedule E annuity please contact the HMRC helpline on 0845 300 0627. You will need to quote your client number, National Insurance number and your PAYE reference; this can be found on your P60 tax certificate.
If you have any queries regarding the taxation of your schedule D annuity please contact your local tax office.
If you believe you are being taxed incorrectly please contact the tax office and they will be able to assist you further.
I live abroad, so why am I paying UK Tax?
Although you may not be living in the UK you can still be liable to pay tax on your UK pension income.
This income may also be subject to tax in the country which you live.
Unless you live in a country which has a specific agreement with the UK you could be taxed twice.
For more information on paying UK tax while abroad or to request your annuity is paid without the deduction of tax please go to HM Revenues and Customs website, or write to:
HMRC Centre for Non Residents
Fitzroy House
PO Box 46
Nottingham
NG2 1BD
Will I receive an annual statement (a P60)?
You will receive a statement (P60) after the end of each tax year if applicable. This will list the tax code used and the amount of tax that was deducted from the annuity payments made in that tax year. The UK tax year ends on 5th April and statements will not be released until after this date.
Can you make payments overseas?
In most countries we can offer the facility to have your pension paid directly into your overseas bank account in local currency. The service has a small charge of £2.74 per payment which is considerably lower then the charges applied by most banks for currency exchange. We write to our overseas customers to offer this service when we are setting up their payments.
If you do have any questions about this service please call us on
0800 158 4545.
Lines are open Monday to Friday 9am - 5pm
Alternatively you can send an e mail to:
annebhg@aviva.co.uk.
Escalation / RPI & With Profits
What is RPI, LPI and fixed escalation?
RPI and LPI are determined by the government.
The Retail Prices Index (RPI) is an escalation which increases and decreases in line with inflation
Please note that if RPI is negative we will not decrease your annuity
The Limited Prices Index (LPI) is an escalation based on the RPI factor of September the previous year. LPI will not increase higher than 5% in one year.
Fixed escalation is chosen by you at the set up of your annuity, to find out more information please refer to your final quotation.
How does my With Profits Pension Annuity work?
A With Profits Pension Annuity is an annuity that ties your annual income into the performance of Aviva's with-profits funds.
Your With Profits Pension Annuity is determined each year by comparing the Regular Bonus Rate against the Anticipated Bonus Rate (ABR) that you chose when the plan started. There may also be an Additional Bonus added after the basic amount has been calculated.
If an annuity is decreasing it will not fall below the guaranteed minimum floor decided at set up.
A With Profits Pension Annuity can be converted to a conventional Pension Annuity at any point from the first year after commencement. You can also opt to change your ABR. Please call us on 0800 092 3711 for more information.
Other questions
What happens if I can't manage my own affairs any more?
If you are finding it difficult to manage your own affairs, a power of attorney is a legal document giving another person the power to make decisions with regards to your finances, health and personal welfare.
There are different types of power of attorney, we recommend speaking to a solicitor or visiting the websites below:
England and Wales: www.direct.gov.uk
Scotland: www.publicguardian-scotland.gov.uk
Northern Ireland: www.courtsni.gov.uk
What will happen to my annuity when I die?
This is dependent on the benefits chosen at set up of the annuity. Please contact us for more information.
How do I convert other pensions in to an annuity?
You will need to submit a new application, please speak to your financial adviser for further information. If you don't have a financial adviser visit our financial advice page.
What is a letter of authority?
If the annuity we are dealing with contains a dependant's benefit, we would require a Letter of Authority in order to be able to give information regarding this benefit to a Solicitor or Financial Adviser.
If the dependant would like us to write to the Solicitor/Financial Adviser with these details, they can send us a signed letter giving us permission to do so. The letter must include all policy numbers along with the name, date of birth, full address and signature of the person the spouse wishes to give authority to.
Please note that the letter of authority will expire after 24 months from the date of the letter unless we are specifically told otherwise.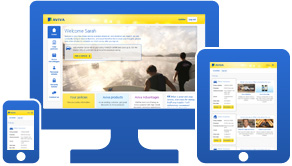 Register for our new online service to:
Check your annuity details online
Access great offers on Aviva products
Enjoy exclusive rewards and competitions