Four ways to help make premiums more affordable
With no shortage of monthly outgoings, families feeling the financial squeeze might assume life insurance is an expense to opt out of, or something to sort out later. 
While nobody can predict the future, research by Aviva 1 among 500 people whose partner recently passed away showed that, for the majority (65%), their partner didn't have life insurance. So those left behind unfortunately didn't have the financial cushion that a life insurance payout might have provided.
Life insurance can be accessible for the average family, though. Here are four ways to help reduce what you pay in premiums.
1. Only pay for the term you need
When it comes to how long your policy lasts, there are two sorts of life insurance: whole of life cover and term life cover. Whole of life cover continues until you pass away, so a payout is guaranteed, while a term policy is for a specific period of time, and pays out if you pass away during that time. 
Though it might sound like a no-brainer to be covered for your whole life, it's typically more expensive than a term policy. Think about why you want to take out cover. If it's to make sure the mortgage could be paid off, how long is your mortgage term? Or If you want financial security for your children, consider when they might be financially independent.
2. Consider decreasing cover
Decreasing cover is a type of term life insurance. Your premium stays the same, while your cover amount reduces over the policy term, broadly in line with what you have left to pay on a repayment mortgage. That's why it's often called mortgage life insurance. The idea is that you'll leave enough behind for your loved ones to be able to pay off what's outstanding on the mortgage, if you die within the policy term.
So you only cover what you need, which is the amount and duration of the loan. As the cover amount reduces over time, premiums tend to be lower than for level cover, and you have peace of mind that your family could stay in the family home when you're gone. Just consider that, if you'd like the payout to help cover other costs, you might want to also consider level cover.
3. Quit smoking and get healthy
It's probably no surprise that a healthy lifestyle will help reduce your premiums. As well as looking at things like your alcohol intake and your BMI — along with a number of other considerations, like your age — insurers will ask if you smoke. 
Smoking will have a significant impact on what you pay for your cover. According to MoneySuperMarket data, smoking could increase your life insurance premium with some insurers by as much as 56% 2.
So if you're considering quitting, doing it a while before you take out your policy makes sense if you're looking to reduce your premiums. Each insurer will have their own definition of a non-smoker, but it's usually if you haven't smoked or used nicotine substitutes for at least 12 months. Honesty is the best policy when it comes to the application questions, so answer them accurately, or your insurer may not be able to pay a later claim, or the full cover amount. You may be asked to have a medical exam as part of your application.
If you don't smoke and are aged 18 to 40, it's possible to get a life insurance policy with us, with a cover amount of £150,000 over 25 years, for as little as £6.40 to £16.40 a month 3.
How much alcohol you drink, and your body mas index (BMI) — a measure of whether your weight is healthy for your height — can also affect your premiums.
That's because keeping your alcohol intake within the recommended amount, staying active, and having a BMI within the healthy weight range, lowers your risk of harming your health. So premiums will be lower to reflect this.
4. Take out our free parent life insurance
If you're a parent of a child under four years, you can get a year's free life insurance with us when you take out our Free Parent Life Cover. Both parents can get £15,000 of life cover for each child under four. You don't need to give us your bank details, or take out another life insurance policy — though it can be in addition to another policy, if you like. It's also really quick to apply.
So while £15,000 may not cover all of the family's outgoings if the policyholder passes away – and this insurance only lasts for a year — it provides some backup, perhaps while you consider something longer term, with a higher level of cover. 
And finally… it might cost less than you think
These four tips can go a long way towards making a monthly premium more workable for you. But if you still think the cost of life insurance makes it out of reach for you, this everyday comparison might be of interest.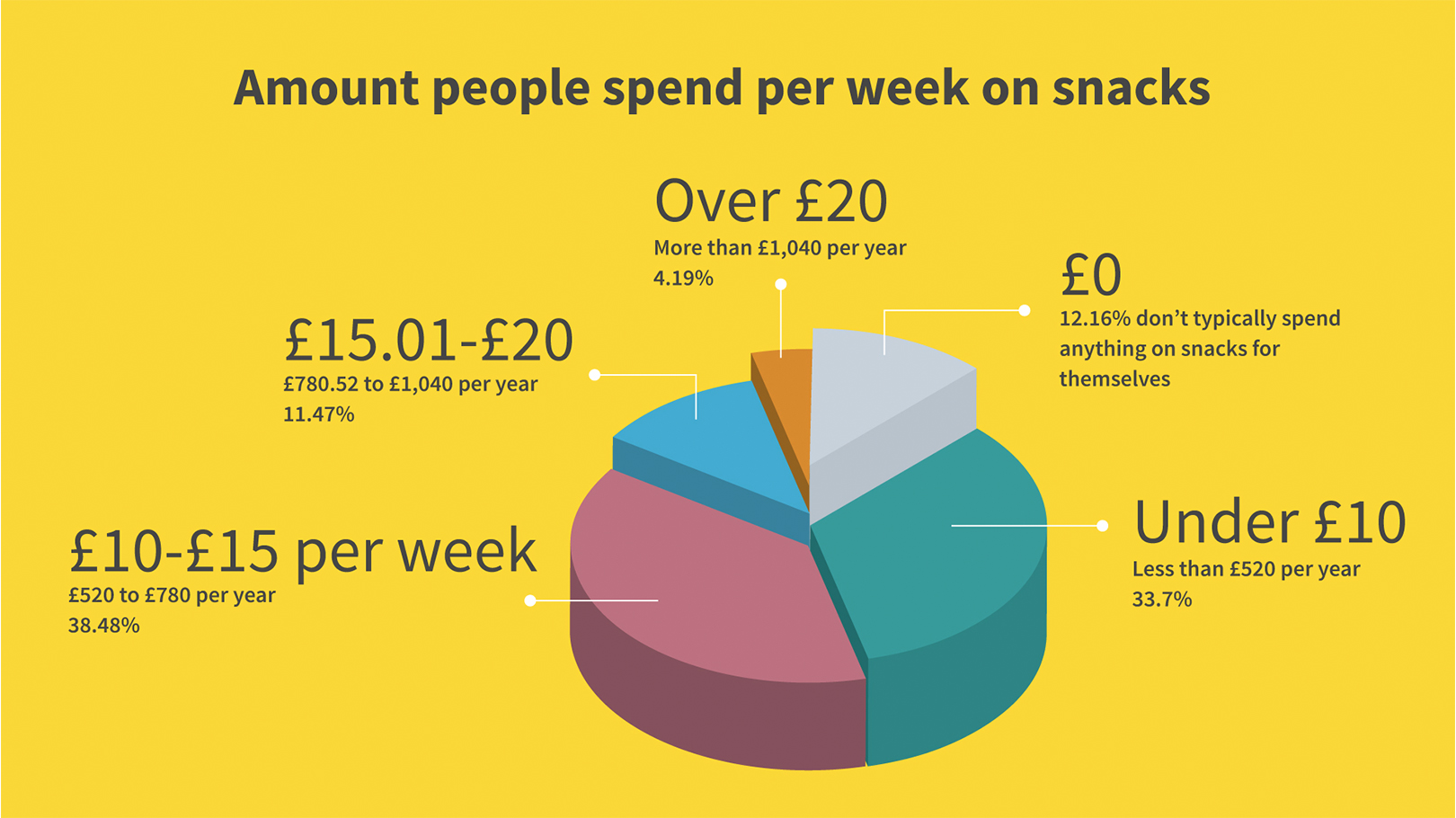 In our 2020 survey of snack habits 4, four in 10 people we asked typically spent £10 to £15 on snacks in just a week. And those who snacked to cheer themselves up spent 8% more than people who snacked just because they were hungry:
So if you're looking for another mood lifter and some valuable peace of mind, life cover might be more affordable than you think – and your monthly premium could be less than a week's worth of snacks.