If you're concerned about your pension pot lasting you all the way through retirement, you could think about relocating to a destination with cheaper living costs. Here we compare the costs of settling down at home against three of the most popular hotspots for Brits retiring abroad. 
To help understand the difference in costs, let's imagine you're considering renting a one-bedroom home in the city centre of each hotspot. Including utilities and groceries, what would your essential spending look like each month?
Retiring in the UK
Many of us take retirement as the opportunity for a change of pace or to downsize. Coastal and countryside locations, such as East Devon, tend to be popular with retirees. Including rent on a one-bedroom city flat at around £685, you might expect to spend around £950 on your essentials each month in Exeter, East Devon 1.
Retiring to Spain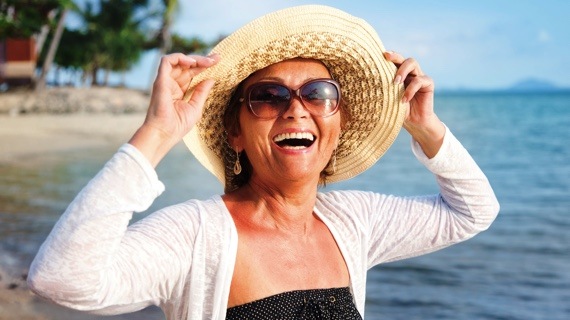 With its pleasant climate, blue seas and plentiful expat communities, Spain is a consistent favourite with UK retirees 2.
Property prices slumped during the global financial crisis, but they're edging back towards their high of early 2008. You still might find good value, even in the ever-popular coast east of Malaga. Living in the city centre, you could spend around £850 a month to cover your essentials, including £584 for rent 3.
Retiring to France
Just a short hop across the Channel, France is the UK's second most popular retirement destination abroad 2. 
It's a vast country with huge regional variations, and property types and prices range from the chic centres of Paris and the Côte d'Azur to the rustic cottages of Provence and Brittany. The area you choose could have a big impact on what you spend – living in a one-bedroom apartment in Paris would set you back nearly £1,470 a month 4, while life in a similar property in Aix-en-Provence would come in just under £1,100 5.
Retiring to Italy
Italy remains one of the most popular destination for Brits retiring abroad 2, and with so many of us heading to Tuscany, the area's been dubbed Chianti-shire. Life in Lucca could start at around £810 a month, with rent on a one-bedroom property in the centre of town only £450 6.
Comparing specific living costs in the UK, France, Italy and Spain 
All figures were correct at the time of writing, are rounded to the nearest pound and may differ because of current exchange rates.
Average property prices per square metre for buying an apartment outside of a city centre 7:
France £3,177 (around 22% more expensive than the UK)
UK £2,991
Italy £1,709 (around 43% cheaper than the UK)
Spain £1,691 (around 43.5% cheaper than the UK)
Average monthly utilities (electricity, heating, cooling, water and rubbish collection) 7: 
UK £145
Italy £125
France £118
Spain £97
Average price per litre of unleaded petrol 8: 
Italy £1.41 
France £1.37  
UK £1.27
Spain £1.11
Average monthly internet (60Mbps or more, unlimited data, cable/ADSL) 7:
Spain £41
UK £31
Italy £28
France £27
Monthly recommended minimum amount of money for food per person (based on 31 days per month) 9:
France £267
Italy £224
UK £172
Spain £165
Average price of a mid-range restaurant meal for two 7: 
UK £45
France £43
Italy £43
Spain £30
Can I get my pension if I live abroad?
You can claim your State Pension while living anywhere in the world if you've paid qualifying UK National Insurance contributions. However, depending on where you move to, your payments will only increase annually if you live in:
the European Economic Area (EEA)
Switzerland
Gibraltar
a country with a social security agreement with the UK that allows for increases
Also note that if you have it paid overseas, you'll get paid in local currency – meaning the amount may change often depending on the exchange rate.
If you have a defined contribution or defined benefit pension, you can choose to either:
leave it in the UK and withdraw from abroad
move your pension abroad
By leaving it in the UK, you'll have the same options on how to take your pension. However, it's unlikely your pension provider will pay your money into an overseas bank account, or if they do, they'll charge you a fee. But you can transfer it from a UK bank account to one overseas. 
If you transfer your pension to another country, you should do so via a qualifying recognised overseas pension scheme (QROPS). If you don't, you may have to pay a tax charge and your UK pension provider may refuse the transfer. 
Transferring your pension abroad may change the amount you get when you retire, and certain criteria must be met before you can do so. 
We recommend speaking to a financial adviser about your pension options if you're planning to retire in another country. 
Your pension is taxed at the usual rate (0-45%) in the UK. If you live in country that doesn't have a double tax treaty with the UK, you may have to pay tax in both countries. You can find out more through the UK government website.
A few more things to consider
Remember, whenever you're buying a property the costs don't stop at the asking price. There will most likely be fees for estate agents, lawyers and surveyors.
All costs abroad will be affected by fluctuations in the exchange rate, as you will most likely have your pension paid into a UK bank in sterling.
A final factor is Brexit. Negotiations could potentially affect the double tax treaty that the UK currently has with the countries we've looked at – but right now it's too soon to say.
Try our pension calculator to see if you can afford to retire to one of these popular destinations.