Using equity release to pay off my mortgage
Equity release can be used by homeowners to pay off their mortgages early by untying tax free cash from their homes.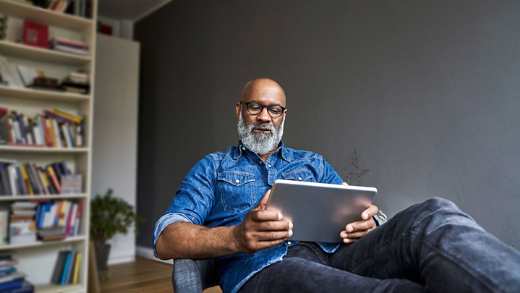 If you're over 55, equity release offers a way of taking cash from the value of your home without having to move. The type of equity release we offer is a lifetime mortgage, which is a long-term loan secured against your home. 
There are no monthly repayments, instead the loan and all the interest that's built up are repaid, usually from the sale of your home, when you (and your partner, if you've taken it out jointly) die or need to go into long-term care, subject to our terms and conditions. 
Learn more about how our lifetime mortgage works.
Although the cash you release from your home can be used on the things that are important to you, this article covers how you can use the loan to pay off your mortgage, along with the benefits and drawbacks of doing so. Your eligibility for means-tested benefits and your tax position may be affected.
While you might expect a reduced retirement income, very few could've predicted the rise in living costs and how pension funds would struggle.  Savings may not stretch as far as they once did, which could explain how keeping up with mortgage payments can also create financial stress in retirement.
Can I use a lifetime mortgage to pay off my mortgage?
By taking a lump sum from the value of your home you can repay your mortgage lender, and once the balance has been cleared, you'll own your home outright. It's important to remember that the lifetime mortgage will mean that there is still a debt secured on your home, but you won't have to make regular repayments. The loan plus interest is repaid when you pass away or move into long-term care, subject to our terms and conditions.
Can I use a lifetime mortgage to pay off an interest-only mortgage?
During the term of an interest-only mortgage (typically 25-35 years), you must make regular interest payments until the mortgage term finishes, when you repay the original loan amount (the principal) too. 
This is different to a capital repayment mortgage, which requires you to pay some of the principal loan as well as interest.
Using a lifetime mortgage to pay back your interest-only mortgage can be especially helpful if the term's due to finish soon, but you don't have the cash to repay the principal and want to stay in your home.
Say you bought your family home for £300,000 in 1996 and got a 30-year term interest-only mortgage. Throughout your term, the outstanding debt will still be £300,000, assuming you made timely repayments. 
As 2026 is approaching, you need to repay the principal, but you're not ready to sell up and move home. A lifetime mortgage can be used to cover some of the principal and any remaining costs.
See how much money you could unlock from your home with our equity release calculator.
What are the benefits of using equity release to pay off my mortgage?
No more monthly interest payments: A win for your piggy bank, especially later in life when your income might be reduced and fewer outgoings could really help with budgeting.
Ease your financial pressures: If you're retired or on a fixed income, you can help to soothe any money worries by removing a significant regular outgoing. 
Stay at home: If you're not ready to uproot and adapt to a new home and local neighbourhood then equity release could be the solution. With the confidence that you can stay put, knowing you own your home outright. 
What are the downsides of using equity release to pay off my mortgage?
Learn about the potential benefits and drawbacks of equity release in general.
Using equity release to pay off an interest-only mortgage can provide financial relief, but you should be aware of the potential risks and downsides associated with this option. 
You could be limited by the amount of equity you have when the property's sold, if you decide to downsize or move home. This is because interest will be added yearly on the amount you've borrowed and any interest already added – it's known as compound interest, which will quickly increase the amount you owe.
If your property's value hasn't increased as expected, inheritance will be reduced and the equity left to you or your estate could make you question whether the lifetime mortgage is your best option. 
There are some mortgages that come with early repayment penalties. So while it will offer some benefits, you should consider whether it's worth paying the charges. 
Before using equity release to pay off an interest-only mortgage, you must speak to an equity release adviser. With their help, you can make an informed decision about whether this option is right for you based on your financial situation and goals.
Choose from a range of retirement financial advisers using the government-backed service Money Helper.
Be protected if you downsize later
If you get a lifetime mortgage with us and then want to transfer the mortgage to another property that doesn't meet our lending criteria, you may be able to pay off your lifetime mortgage in full, with no early repayment charge (ERC), thanks to our downsizing protection. This ERC would be waived if you've had equity release with us for three years or more. Please speak to your adviser or see the terms and conditions for more information on how this works.
If the new property's worth less than your current one, you'd need to pay back some of the loan and interest accrued. However, if we can't lend against the new property, you'd need to repay the lifetime mortgage and interest, and potentially a substantial early repayment charge, unless you can use downsizing protection. 
However, if you're also considering downsizing instead of a lifetime mortgage, our article compares two options for unlocking money from your home.
It's crucial you understand the fees, terms, and conditions of any equity release option before signing up. Your inheritance, tax situation, and overall financial health could be affected. Before making any decisions, you should talk to a financial adviser or an equity release adviser.
If you're not sure if this is right for you, we have an article covering alternatives to equity release. 
To enquire about getting specialist equity release advice, call us on 0800 141 3493
When you get in touch with us, you'll first speak to a team that will check you're eligible for our lifetime mortgage. They'll arrange a call with an expert FCA-regulated equity release adviser.

This adviser can only give advice about our lifetime mortgage, and they'll tell you if they think it's right for you. If so, they'll give you a personal illustration and go through the all-important details with you – we're talking benefits, costs and risks. If you come to us directly, you won't pay a separate advice fee, instead we'll pay the adviser commission once you complete on your lifetime mortgage.
You can learn more about equity release on our dedicated frequently asked questions page. 
Next article
Downsizing or equity release are two ways to unlock equity from your home to help your finances during retirement. Explore the right option for you here.
Get specialist equity release advice
Take your first step by arranging a call with a UK-based equity release adviser. You don't have to commit to anything, it's just to see if it's an option for you. And you won't pay a separate advice fee. Instead, we'll make a commission payment to the adviser on completion of your loan. Here are two ways to get in touch.
Call us free

Ring now and make an appointment with an equity release adviser.

0800 141 3493

Monday to Friday: 9:00am - 6:00pm
Weekends and Bank Holidays: Closed

Ask us to call you

Give us your name and number, and an adviser will call you. You can pick a chosen day and whether morning or afternoon is best.

Request a call back
Your call will be answered by the Aviva Equity Release Advice team, who can provide information and advice on Aviva's lifetime mortgages only. They're authorised and regulated by the Financial Conduct Authority. 
Calls to 0800 or 0808 numbers from UK landlines and mobiles are free. For our joint protection, calls may be recorded or monitored, and saved for a minimum of 5 years. Our opening hours may be different depending on which team you need to speak to.