Buying an electric car, a guide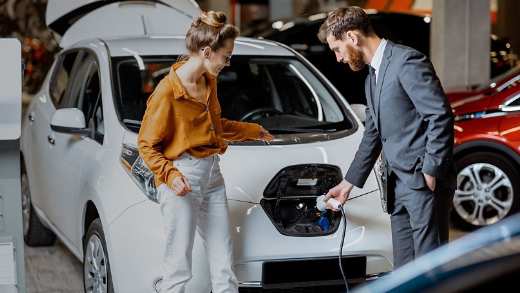 Greener driving, a little extra room for the kids, or a glovebox that doesn't ping open when you hit a speedbump. Whatever your reasons for upgrading, buying a car is always a big deal – whether it runs on petrol, diesel, or electricity. But, if you're considering an electric for the first time, you may also be wondering what else you need to look out for.
The good news is, buying electric is not that different from buying any other car. You'll still need to think about what you use it for, your budget, how much it costs to run (and keep running), and whether you can get the best deal on new or pre-owned. There's only a couple of extra things to consider on top of that – and we're here to walk you through them.
Buying a new electric vehicle
Ginny Buckley, Founder and CEO of Electrifying.com, gave us her top buying tips for new electric cars (EVs).
Choose the right EV for YOU
Think about how you use your car and what features would be most useful. If you do lots of long journeys, you'll need something that can do serious miles on a single charge. But, if you're after a comfortable commute or a family runaround, you're less likely to need a top up every time. Size, running cost, or even boot space could prove more important.
Choose the tech you can't live without

With new electric cars, the cutting-edge tech isn't just under the bonnet. If you're a gadget-lover, you'll have plenty of options to choose from. But those who prefer a stripped-back driving experience – or just want to save a few pounds – may want to keep it simpler. Decide what features are your 'must haves' before you shop. That way, you're less likely to be swayed by things you're never going to use.
Think about value – not just cost
Once you know what you want and need from an electric vehicle, you'll still need to find something within your budget. But, when you're thinking about long-term value for money, it could pay to think beyond the initial price.
Total cost of ownership (TCO) factors in the costs of running and maintaining the electric vehicle. Electric cars tend to cost a bit more upfront than petrol of diesel, but can be cheaper to run day-to-day, particularly when it comes to saving on fuel. 
Ask your dealer the right questions
If it's your first electric car, it might be a good idea to buy from a specialist EV dealer. They tend to know a bit more about electric vehicles and can talk you through which options could meet your needs and budget.
Whichever model you choose, you'll want to know what an unexpected trip to the garage could cost. Ask your dealer how long the warranty is on parts – especially your electric car's most expensive and important component: the battery. 
Nick Harvey, of The Energy Saving Trust, told us Battery warranties on EVs are usually separate and run much longer than parts and wear warranties – averaging 8-10 years. This means, after the parts warranty has ended, the battery should still either be fixed or replaced, at no cost to you, if anything does go wrong. 
If you've got space to fit a home charger, ask if a unit and installation are included in the cost. This is the case at some dealerships and could save you a fair bit, compared to buying and fitting later. If you're not able to have a home charging unit fitted, but it is included, it won't hurt to ask if they can take a little off the price instead. If you haven't done your homework on home chargers yet, read our guide to charging your EV.
Money saving tips
Plug into a brighter future with our car insurance for your electric and hybrid vehicles.
Driving a new car off the forecourt can feel even more exhilarating if you know you got it at the right price. So, don't be afraid to ask your dealer if they have any offers or deals on the models you like.
If your employer offers a salary sacrifice scheme for an electric car, there are currently advantages due to the low benefit in kind charge on EV's – meaning you'll pay less tax.
If you like to lead the pack by always driving the latest model, you may also want to consider leasing instead of buying. It'll prove more expensive for some; but can work out more cost effective if you plan to switch after a few years. 
Make sure you know what cover will cost
Our quick quote tool will give you an idea how much insuring your new EV could cost you. You can also learn more about EV insurance in our quick guide.
Buying a used electric vehicle 
We also asked Ginny Buckley from Electrifying.com – and our own in-house experts – what to look out for when buying second-hand electric vehicles. They told us that, as many are still quite young, it's not that different to buying one new. But, just like when buying a used petrol or diesel car, it pays to be as thorough as possible – and that includes adding a couple of extra EV-specific checks to your tick list before you drive it home.
Check all the systems work
Hands on the wheel, feet on the pedals, and maybe even a little bit of button-pushing – that's the only real way to get a true feel for a car. So, insist on trying out as many of its systems as possible for yourself. And don't be bowled over by buying your first EV; make sure you also check out the standard features you'd find on any car. Broken speakers or sticking windows will all cost you extra money to put right.
If the car is young but has had a lot of owners, take a step back and ask why
It might seem sound, but it's been passed around for a reason. Ask if the seller knows why, before you buy.
Check the charger cable is with the vehicle
If they're not, it can make charging away from home tricky and leave you forking out for a replacement.
Check the warranty on the battery 
Most used EVs will be under 10 years old, so many are likely to still have at least some time left on the battery warranty. That means you should still be able to get any repairs done for free, or get a replacement, should anything go wrong – for the time being at least.
Think about getting an in-depth diagnosis 
If there's no warranty on the battery, you may want a more in-depth diagnostic health check. This will give you a clearer picture of things like cell condition. It'll cost a bit upfront – and could mean getting in touch with the main local dealer for that brand of EV, who are likely to have the equipment needed. But, if you have battery issues out of warranty, things could get expensive for you, fast. Learn more about what to expect from EV batteries.
Check the car's history
If there have been any repairs to the core components – battery, traction motor and high voltage control system – make sure they've been carried out according to the vehicle manufacturer's recommendations. 
A final word on safer driving
Many electric vehicles, even when they're pre-owned, are likely to be less than 10 to 15 years old and have higher safety ratings than older models. But always research the specific safety rating of a model, to make sure you're happy before you buy. 
A higher safety rating is also likely to be a big positive when it comes to getting your car insured too. To see how much it could cost to get your used EV insured with us, check out our quick quote tool.