We've partnered with Macmillan Cancer Support to give you easy access to quick and effective help
Macmillan Cancer Support is one of the largest UK cancer charities and is doing whatever it takes to help everyone with cancer live life as fully as they can.
We're working with Macmillan to raise awareness of the support they can give you if you're impacted by cancer, either with your own diagnosis or that of a friend or loved one. 
The partnership helps us guide you to the right emotional, clinical and financial support provided by Macmillan and speeds up how quickly we can settle claims.
Quicker claims
Speaking directly to your Macmillan Clinical nurse specialist, rather than waiting for a GP's medical report, means we can settle your claim quicker
Expert advice
Our customer team will signpost you to all the emotional, clinical, and financial support that Macmillan Cancer Support can provide
Supportive claims team
Macmillan has supported the training of our claims staff, so they're equipped to handle conversations with customers affected by cancer
There when it matters
If you have life insurance, critical illness cover, or income protection and make a cancer claim, our customer team will be there to help.

They have the information, tools, and necessary training needed to guide you quickly to the most relevant Macmillan support service.
More than a third of people with cancer (39%) are severely financially impacted by their diagnosis [1]Footnote 1, so we know how vital it is for you to get the right help.
So, if you're living with cancer and worried about money, work, or treatment, or just want to talk about whatever's on your mind, Macmillan are here to listen and support you.
Faster claims and dedicated help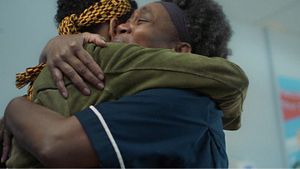 Faster payment of claims
If you have a Macmillan Clinical nurse specialist, we'll speak directly to them to confirm your diagnosis, instead of waiting for a medical report from your GP. This helps reduce the time you have to wait for us to settle your claim, from up to 60 days down to just a few hours in some cases. In 2022, we paid over 265 claims for cancer by simply speaking to Macmillan Clinical nurse specialists. Speeding things up means we're able to help more customers and their families get vital clinical, emotional, and financial security quickly, when they need it most.
Claims staff trained by Macmillan Cancer Support
Macmillan has supported the training of our claims staff to understand the impact of cancer and the varying ways Macmillan can provide support to those who need it. This will better enable our staff to handle conversations with customers affected by cancer. It also means our customer team has the information, tools, and necessary know-how to guide you to the Macmillan support service that's right for you.
Louise, Macmillan Clinical Nurse Specialist. Credit: Macmillan Cancer Support.
How Macmillan can help
Clinical support
Get help with understanding treatment options, dealing with side effects, eating healthily, and keeping active. Speak to a Macmillan Clinical nurse specialist to learn what to expect from your diagnosis and key information on how to manage symptoms and side effects.
Emotional support
A wealth of online, telephone, email, and face-to-face support for anyone impacted by cancer, at diagnosis and beyond. Call the support line and specialist cancer information advisers will offer a shoulder to lean on if you're feeling upset or overwhelmed. They'll also give the expert cancer information you need to find a way through. 
Financial support
View financial guides filled with advice on the best way to manage your money, including help with mortgages, insurance, and pensions. Call the support line to speak to a welfare rights adviser if you need help to claim benefits. They'll make sure you're not missing out on anything you could be getting. 
Practical help
The day-to-day things can be hard during cancer treatment — find out how to get help. For example, you can speak to a member of the energy advice team to learn about the support available from your gas and electricity providers. They may also help you unlock financial help towards bills, boilers, and energy efficiency measures. 
Help with work
Find out how to cope with the impact a cancer diagnosis might have on work. Work support advisers can help you understand your rights and guide you through how to negotiate any adjustments you need.
Online community
Groups, blogs, 'Ask an Expert.' 24-hour support in a safe environment. Here you can share experiences, ask questions, and vent your emotions with people who understand. 
Coronavirus advice
The Macmillan website has the latest guidance for people with cancer when it comes to the extra challenges posed by Coronavirus.
Contact Macmillan Cancer Support
For help and advice call the Macmillan Cancer Support helpline on 0808 239 6341.
Calls to 0808 numbers from UK landlines and mobiles are free.