Flowers, tick. Food, tick. Fun, tick. Finances? How being open about money could save your relationship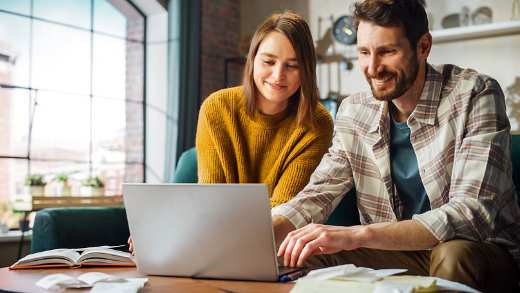 The latest casualty of the cost of living crisis could be love.
By Sarah Lewis
With a quarter of us admitting to arguing about money every week [1]Footnote 1 – and rows rising thanks to the cost of living crisis – make sure your pulses are racing for the right reason this Valentine's Day.
Splitting finances fairly, sharing savings and dealing with debt can be some of the trickiest conversations when you're coupled-up. And our research into the politics of shared finances found that money issues are increasingly putting relationships in the red.
The trouble with financial infidelity
For most people in a committed relationship, being faithful is a pretty big deal. And that extends to keeping secrets about your finances too.
Stolen moments are replaced with syphoned money with almost two in five people in a relationship (38%) [1]Footnote 1 who told us they're guilty of financial infidelity. This where they have secret savings or spending habits their partner doesn't know about. 
Financial infidelity is often defined as 'an act of dishonesty relating to personal finance between two people in a relationship' and includes having secret credit cards or savings accounts, lying about debts or gambling, or hiding things you've bought from your other half. Being more open and understanding about spending habits with your partner means they won't feel betrayed and financial clarity could even help towards paying for a new love burrow, romantic escape or more moonlit dinners.
'I do' to shared bank accounts
While more than two-thirds of couples (67%) told us they have a joint current account and half (51%) have joint savings accounts, 38% of the couples surveyed admitted to having 'money stashed away' that their other half doesn't know about.
On average, these 'secret savings' come to more than £1,600 each, with the over 55s having the most in secret accounts with more than £2,000 for a drizzly day.
The reasons for having a secret account were quite sensible, with most simply wanting to keep some control and independence over their finances, or to save for their children. Sadly, one in five (21%) said it's in case their marriage breaks down and 15% need to pay off a debt they've not told their partner about.
Money rows on the rise
Our research found money is one of the most common causes of friction in a relationship.
And with the cost of living crisis putting extra strain on household finances, it's no surprise that more than a third of people told us they have more arguments because of this.
More than a quarter of people argue about money every week, and 5% argue every single day.
What are we arguing about the most? Bills and debt.
Get your savings in sync
With money worries threatening to dent even the most solid partnerships, what can you do to avoid a break-up? Here's some advice on how to stop money ruining both your relationship and financial future from our Head of Savings and Retirement Alistair McQueen:
Set goals: jot down your joint short- and long-term financial goals – what do you spend money on, for example holidays, mortgage repayments, car payments, etc. and how you plan to pay for them. Discuss debt deadlines like paying off loans or credit cards and pension savings.
Talk about ins and outs when it comes to money: 16% of arguments between couples are about how much each person should contribute to household costs so a clear idea of what's coming in and who's paying for what can help massage the tension.
Emergency fund: think about a backup fund for unexpected expenses. Although not possible for many, financial advisers usually recommend holding three to six times your monthly outgoings in cash.
Open up your relationship: be honest and talk openly about any debt you may have including credit cards, store cards and gambling debts. Then you can come up with a plan to consolidate and pay them off as quickly as possible. There are a number of free, confidential, and impartial services available to help you if debt is becoming a problem, read our article on clearing debt.
It's all about dialogue: regular conversations about money can help keep your finances and relationship on track.
Protect your loved ones: one of the best gifts you can give your partner is to make sure you have a will or testament and check your pension, health and life insurance policies to make sure the beneficiaries are up to date.